Reflection
Getting a GRiP on making positive changes to our communities and our planet
The GSDU Responsible Business Program (GRiP) is now 2 years old. We continue to put ambitious targets in place to create positive change in the communities where we live and work and to reduce any negative impacts. Responsible Business is embedded throughout our value chain, with significant engagement from employees and community partners. Responsible Business is one of three key strategies for GSDU, demonstrating support of GRiP from the highest levels of GSDU management.
GRiP is vital to how we cultivate engaged employees, and enable them to be productive and happy. We work with the belief that a dynamic and enabled workforce not only enhances productivity but also increases innovation. The GSDU 2018 Employee Engagement survey showed that 80% of our employees believe that the company promotes and values employee diversity. 88% believe they are treated with respect as an individual. And 77% agree that opportunities for advancement are available to all regardless of personal characteristics. All of these hit high-performing organisation norms – a great accomplishment for GRiP.
Since 2016, our employees have been able to make significant positive impacts on their communities through outreach and skills-sharing. From FY19 onwards our objective will revolve around education: sharing our talents and knowledge with society by closely working with community partners. Our vision is to understand the needs and culture of our communities to effectively contribute to their empowerment and social inclusion. In improving living standards, we will also build the capacity of communities to thrive in a digital future.
Communication is vital for bringing people into the GRiP family, creating connections that allow innovation to flourish. That's why we are proud of this report, and the fantastic work that has gone into GRiP during the past year. Through GRiP, GSDU is enabled to be a positive contributor to people and planet, aligned with the SDGs. Our 5-Pillar approach to Responsible Business empowers employees to make valuable impacts on their communities, on our internal employee body, on our business practices, and also on the business practices of customers and partners.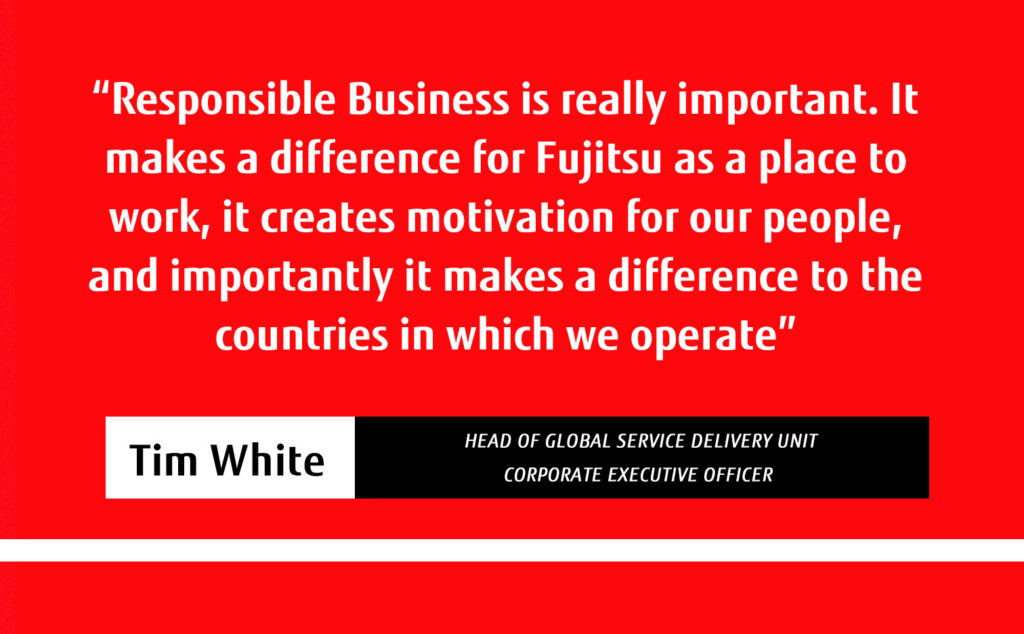 Thank you to GRiP Teams across GSDU for their dedication and passion! #LifeLessOrdinary
For FY17 archive report, see here
For more about GRiP contact GSDU.Responsible.Business@uk.fujitsu.com
Steering Committee
Head of Responsible Business, GSDU
Sarah-Jane Littleford
UK
GRiP Data Manager
Sara Kowalska
Poland
Community Pillar Lead
Angelo Menezes
Portugal
D&I Pillar co-Lead
Ashwini Raj
India
D&I Pillar co-Lead
Ines Reis
Portugal
Environment Pillar Lead
Tharmesh Kumar
Malaysia
Operating Practices Pillar Lead
Cindy Balagot
Philippines
Wellbeing Pillar co-Lead
Sarah Hart
UK
Wellbeing Pillar co-Lead
Michal Kaczmarek
Poland
GRiP COUNTRY TEAMS
Community
Carolina Ghio
Costa Rica
Diversity and Inclusion
Maria Fernanda Morales
Costa Rica
Environment
Marko Segura
Costa Rica
Operating Practices
Esteban Bonilla
Costa Rica
Wellbeing
Wanda Rojas
Costa Rica
Responsible Business Country Lead
Carolina Ghio
Costa Rica
Community
Poonam Tanwar
India
Diversity and Inclusion
Kanchan Jagtap
India
Environment
Shailesh Jain
India
Environment
Reena Sirsikar
India
Operating Practices
Mridu Anand
India
Wellbeing
Kiran Rane
India
Responsible Business Country Lead
Sunil Das
India
Community
Elwin Ho
Malaysia
Diversity and Inclusion
Ramana Agila
Malaysia
Diversity and Inclusion
Priyankka Reddy Ravi Chander
Malaysia
Environment
Krissna Prasant
Malaysia
Operating Practices
Nazatul Jeffre
Malaysia
Wellbeing
Sivakami Velandy
Malaysia
Responsible Business Country Lead
Kimberly Krishnan
Malaysia
Community
Kim Christabel Mendoza
Philippines
Diversity and Inclusion
Joven Dela Rosa
Philippines
Environment
Brady Balictar
Philippines
Operating Practices
Jocelyn Balmes
Philippines
Wellbeing
Chrisanne Mendoza
Philippines
Responsible Business Country Lead
Chrisanne Mendoza
Philippines
Community
Olena Zhyvaikina
Poland
Diversity and Inclusion
Witold Pawlak
Poland
Diversity and Inclusion
Krzyszstof Fabjanski
Poland
Environment
Dorota Kalkowska
Poland
Environment
Maciej Ochocki
Poland
Operating Practices
Piotr Pilarski
Poland
Wellbeing
Olha Datsiuk
Poland
Wellbeing
Marta Lojewska
Poland
Wellbeing
Magdalena Betke
Poland
Wellbeing
Dariusz Okraszewski
Poland
Responsible Business Country Lead
Valeriia Zubkova
Poland
Responsible Business Country Manager
Karolina Kubicka
Poland
Community
Claudia Bispo
Portugal
Diversity and Inclusion
Gloria Ryan
Portugal
Environment
Carla Vasques
Portugal
Operating Practices
Carla Vasques
Portugal
Wellbeing
Vera Daniel
Portugal
Responsible Business Country Lead
Teresa Marcheco
Portugal
Community
Zarema Zaynasheva
Russia
Diversity and Inclusion
Rimma Khaider
Russia
Environment
Denis Napalkov
Russia
Operating Practices
Nikolay Butrimovich
Russia
Wellbeing
Raushan Karimov
Russia
Wellbeing
Kamila Balzamova
Russia
Responsible Business Country Lead
Regina Dyachuk
Russia
Community
Tanja Trajkovic
Serbia
Diversity and Inclusion
Srdjan Maravic
Serbia
Environment
Jovana Jovanovic
Serbia
Operating Practices
Jelena Desic
Serbia
Wellbeing
Boris Matic
Serbia
Responsible Business Country Lead
Jelica Erceg
Serbia